You provide the vision and we'll take care of the details.
Partial & Full Service Wedding Planning In Los Angeles
You deserve to have the wedding of your dreams. One day, one big, bright, laughter-filled party with your favorite people in this world. One day that reflects your style, and your story as a couple. You deserve to have this day, and it's waiting for you. I'm Liz Coopersmith, and I'm going to get you there.
I founded Silver Charm Events in 2004, based on my belief that nothing is more important than what you want your wedding to look and feel like. My team and I are committed to giving you the support, resources and time you need to create a celebration of a lifetime. You should enjoy that day, and feel relaxed about the planning that leads up to it. You provide the vision - We'll take care of the details.
To get started,  to take a look at our services  below and find out how we can help, or click the "Get in Touch" button to tell me more about you and your wedding!
See you at the end of the aisle,
Liz
 Wedding Planning

 Live your life while we will plan your wedding.  Our wedding planning service gives you everything you need to create the wedding you want - unlimited time, referrals, resources,  and meetings, all coordinated around your schedule, all focused on representing your unique style and vision.
We'll be there from now until  the end of your wedding day, providing a seamless experience that allows you to enjoy the planning process.

Wedding Day Coordination
You've already booked most of your vendors and planned most of your wedding.  Now you want to celebrate the day, stress-free, with your family and friends.
A month before your wedding, we'll contact all your vendors, lock down the details and put together an airtight timeline.
On your wedding day, our team will be there to make sure that it all runs smoothly - everyone's on the same page, including you. All your vendors have everything they need. The only thing you have to do is enjoy the day.

"My friends and family were able to enjoy the day without being saddled with tasks. Most importantly, my hubby and I had the most amazing day, without a care in the world. Whatever people threw at me, I just sent them to Liz. She shielded us from everything and we were thoroughly able to enjoy the day.
And not only did she take care of us the time leading up to the wedding, and on the wedding day itself, she also checked in with us after the wedding to make sure we were ok. Some minor issues came up and Liz was still working on stuff for us. She is so easy to work with, she has a great, friendly energy, she always put me at ease. Having her a part of our wedding was the best decision I made. People asked me how I was so calm on the day of. It was because I knew I had her running the show! We are so grateful to Liz."
Izzy + Ryan: Turnip Rose, Costa Mesa
"Thank God for Liz!!! We planned a wedding for 200 people in just 6 months! We hired Liz for her full services and this was money well-spent. Liz was helpful in every aspect of planning and organizing the biggest event of our lifetimes. Her patience and help made it possible for us to create exactly the exciting and unique wedding experience that we had imagined. She is an expert in all things wedding and just being able to ask her endless questions throughout the process was priceless. I love that she takes so much delight in the creative expressions of love through weddings. She is a gem!"
Amy + Nick: Rancho Del Cielo, Malibu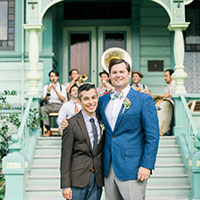 "Hiring Liz as our wedding coordinator was hands down the smartest wedding investment we made. We booked our wedding venue based on its beauty alone but we quickly realized that it came with no amenities – no water, no power, no bathrooms, no lighting, etc. It could have been a logistical nightmare but Liz did a fantastic job of managing all the vendors, insurance, deposits, and set-up & breakdown times
When I went to Liz with my crazy ideas she never said "no" but simply helped figure out the logistics to turn them into reality. On the big day, she and her assistants managed our timeline so that everything flowed seamlessly. The entire day was perfect – a wonderful day, surrounded by loved ones, good vibes and awesome food. I'm so glad we booked Liz!"
Rudy + Ryan: Heritage Square Museum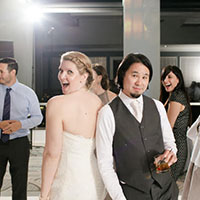 "My dream for my wedding was to have the day go off without any major disasters, which it did, so I got my dream wedding, thanks to Liz. She handled every detail of the planning and was available for all our meetings, tastings, fittings, etc. Our personalities meshed well with Liz, who is a fellow sci-fi and pop culture geek, and the whole process of planning was painless and even fun. If anything did go wrong on our special day, we were not aware of it. I felt like I could just relax and enjoy the celebration without having to worry about anything. We had all the things that were most important to us - good food, good music, a beautiful setting, plenty of booze and all of our loved ones there with us to share the moment. Liz helped to make it all happen. It was truly the best day of my life, and I'm so grateful that I will always have this perfect memory."
Karen + Roger: City Club, Downtown L.A.
"I couldn't have asked for a more organized, fun and capable wedding planner than Liz at Silver Charm Events! We live in the UK but decided to have our wedding back home in LA. Planning a wedding from abroad can definitely be overwhelming but Liz made the entire process fun and stress free. She was always there to answer any question I had at anytime of day or night. Even though I had only two weeks in town before the wedding itself, she made sure to be on hand for everything that needed to get done. If you're planning a wedding I definitely recommend hiring Liz and her team!"
Nicole + John: Heritage Square Museum
"Liz was our day-of coordinator, but she definitely went above and beyond to make sure all of the pieces came together before the big day. She was great at handling all of the little details behind the scenes to help make our wedding day a stress-free and fun experience. She works really hard to touch base with all of the various vendors and keep everything and everyone organized. Knowing she had it all under control allowed me to relax and enjoy!"
Megan + Jin: Ebell Long Beach