Ask Liz: My Final Word on Cash Registries
Hi Liz,
My fiance and I will be married next Spring. We've been living together for five years in apartments, and we want to buy a house sooner, rather than later. We feel we don't really need the traditional registry items and, not to sound greedy, we would really rather have money for a down payment. I've heard of down payment registries before, but I don't know how to present this to family and friends. What do you think?
Signed,
Mortgage Minded

Dear Mortgage,
Seriously, more couples are living together before they get married, so they don't usually need more plates and kitchenware, either. I'm a big fan of the cash registry, and there a ton popping up, Hatch My House and Blue Print Registry are some of the ones I'm familiar with. I understand the cringe at asking for cold, hard cash, but it's not really seen as tacky anymore.  As far as letting people know about how you've registered, I've found that a two-pronged attack works. Get a free wedding website –  look on The Knot and Weddingwire for starters –  and put a link to your registry on it. And then, put the link to your website on your invitations. Make it the only option, be enthusiastic about it when asked, but remember to promote, as opposed to recruit. More "We're asking.." less, "Can you/do you want to … ?" Which means, no  prodding before or on your actual wedding day. As with a "traditional" registry, you get what you get, and you say "Thank You."
See you at the end of the aisle,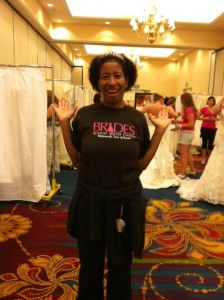 Liz Coopersmith
What do you need right now to create your dream wedding? Contact me today and tell me how I can help.
Ready to get started? Tell me more about you and your wedding.