Katrina's Calligraphy – Beautiful Art On Your Weding Day
One of my favorite things about being a wedding planner is working with other vendors that have so much passion and love for what they do.  "A wedding is just one day, but there is something about creating happiness, for being part of the happiness of that day," Katrina Centeno tells me. "And I can do that just with my own handwriting!"
Katrina never had any formal training, calligraphy was just how she wrote and doodled when she was a kid. Her first professional job was for a college friend who'd watched Katrina writing in her notebook, and asked if she would do the escort cards for her wedding. 
Her company, Calligraphy Katrina, just celebrated it's fifth anniversary in 2012. "My vision,"she says,  "has always been to provide accessible, quality artwork to my clients." She does all of the calligraphy work herself, and yes, sometimes that means finishing 250 envelopes or  500 escort cards all on her own. She assured me that some of her projects are mass-produced, like the invitations themselves or the menus, anything that has the same information on them. She writes all the templates by hand, though. She also sells cards and stationery with her calligraphy on Shop Regalo, her online store.
Katrina stands out with her out-of-the box ideas and gorgeous presentations. A table seating chart written on a window pane, signage on mirrors, chalkboards (using actual chalk or liquid chalk) and picture frames. She was actually the first calligrapher to write on fruit, for a Twilight-themed wedding shoot three years ago. That concept went viral pretty quickly! "You can personalize anything!" She laughs. "And we can make it convenient for you. You don't have to buy, you can rent. So, instead of bringing the mirror or the frame to me, I have it, I'll work on it, and I can deliver it when it's done. If you need blank cards, we have the cards and envelopes in stock, so you don't have to buy those. We have a great selection of paper and inks, anything that you need." She's committed to keeping her prices reasonable, and so she charges per individual item. Escort cards and menus start around $1.00 each, menus at $2.00, depending the paper and ink you like best. A seating chart on whatever medium you choose only starts at $150. "I truly care about each one of my clients. I make sure that I take the time to find out exactly what they need, without with anything extra that they don't need."
Katrina's newest favorite projects involve hand-printing on linen, inlcuding aisle runners, table cloths, and napkins. Katrina calls the napkins a "triple threat" – escort card, napkin and keepsake/favor. Because of the special inks she uses, you can wash the napkin, too. And, again, she does all the writing herself.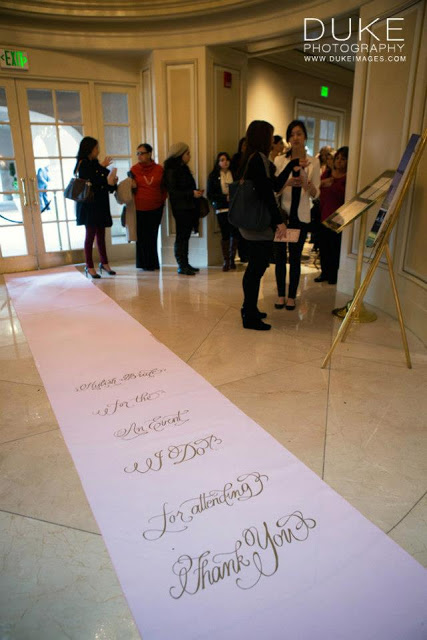 For the past four years, her calligraphy could also be seen at the Weinstein Company's annual Oscar party, and she's worked with more than a few luxury brands, including Chanel, Ferragamo, Bulgari, and most recently, Tommy Hilfiger.
Next up? Calligraphy Katrina is one of the sponsors of the  Pop Bridal Event on February 17th at the Americana on Brand, where you can see wonderful examples of her work, and find out how she can create her special brand of beautiful for your wedding day. Just let her know what you need. 
See you at the end of the aisle,
Liz Coopersmith
Silver Charm Events
www.silvercharmevents.com
323-592-9318
liz@silvercharmevents.com