Wedding Wise Wednesday – Fruit, Vegetable, or Ring Box?
On Wednesdays, I bring you the best wedding stories, deals, and events in Los Angeles and from around the internet. And we call it Wedding Wise Wednesday. Welcome!
Cool Wedding Thing of the Week
Refinery 29 – Avocado Proposals – You kids today, with your hair, and your clothes and your food-based twists on traditions. I'm here for it . Refinery 29 has a great article – with real proposal pictures! – about this latest trend. I just hope that none of the proposees let the avocado go to waste. I look at that and my first thought is "celebration guacamole", you know?
The Deals
Original Runner Co. -You know that huge snowstorm last weekend that shut down a lot of the North East? Guess where their studio is? So, Original Runner is extending their 25% off sale until this Friday, 10/9. Like I said last week, GO.
BHLDN – Speaking of sales, BHLDN have a slew of new markdowns on gorgeous dresses, like this one, which is only $500. Oh, no, you're welcome.
The Events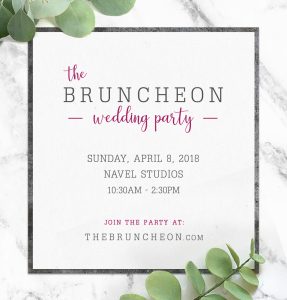 The Bruncheon –  Sunday, April 8. Workshop +Wedding Fair + Vendor Meet and Great +Brunch +Mimosas. Join me. Tickets are only $35 per person until March 15. I'll see you there.
Saturday March 10 – Sunday March 11
Wedding Show Weekend – Over 20 golf courses and country clubs are holding wedding fairs this weekend. One has to be near you. Click on the link for specific locations.
What else does your wedding need right now? Let's talk. Tell me a little bit about you and your wedding below, and I'll get back to you today to schedule a free consultation.
See you at the end of the aisle,
Liz Coopersmith