Wedding Wise Wednesday: Tesla Goals
On Wednesdays, I bring you the best wedding stories, deals and events in Los Angeles and from around the web. And we call it Wedding Wise Wednesday. Welcome!
Cool Wedding Thing of the Week
The Knot: Alexandra and Alexandra's sustainable, eco-friendly Tesla-themed wedding in Washington, DC. Alexandra rented her gown from Rent the Runway, their wedding party wore their own clothes, and the couple and wedding party were driven to the wedding and reception (at the same venue, of course), in her father's Tesla. Alexandra's quote: "What more appropriate wedding vehicle than a pure, fumeless, clean electric vehicle that's white and has the elegant show-stopping falcon wing doors?"
OH, and my favorite part? Alexandra and Alexander officiated their own wedding ceremony – Washington, DC is one of the few places in the US where you can do that. Here's a list of the other ones, because everyone needs to know this. You're welcome.
The Deals
Rent the Runway – Speaking of which, you can get 20% off your first order when you use the code FIRSTRTR. Good for you, your wedding party, your guests, everyone.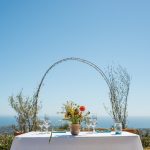 The Silver Charm Guide to Bare Wedding Venues. A Comprehensive e-guide to figuring it out when you have to bring everything in. Get $3 off when you use the code gobare at checkout.
The Events
Sunday, April 8
The Bruncheon
10:30am – 2:30pm
Navel Studios in Downtown LA
1611 S. Hope St Los Angeles, CA 90015

The Bruncheon – It's Here!  Join me and a bevy of wedding planning experts, for tips, brunch and mimosas this Sunday. Click the link for tickets, there are only a few left. I'd love to see you there!
Sunday, April 8
1:00pm – 4:00pm
Maxwell House – Open House
55 South Grand Avenue
Pasadena, California 91103
Take a tour and meet some of their preferred vendors. Pretty sure there's cake involved. Admission is free.
I still have the weekend of June 16 & 17 and the weekend of May 19 and 20th available for Wedding Day Coordination.
Are you getting married on either of those weekends? Click here to find out more.
What else does your wedding need right now? Let's talk. Call or text me now at 323-592-9318 and tell me about you and your wedding, or complete the form below and I'll get back to you today.
See you at the end of the aisle,
Liz Coopersmith
Ready to get started? Tell me more about you and your wedding.