Wedding Wise Wednesday: Your Adventure Awaits!
On Wednesdays I bring you the best wedding stories, deals and and events in Los Angeles and from around the web. And we call it Wedding Wise Wednesday. Welcome!
Cool Wedding Thing Of The Week:
I love this reception detail shot by C Baron Photography in Galveston TX, but guess what my favorite part is? The airplane bottle opener, of course. Luckily, they are conveniently located, at amazon.com, so go for it. But I love the way the couple, with the help of wedding planner Pam Durham,  pulled the travel theme through their whole wedding: Click here to see.
The Deals:
Paper Source – Save 20% on  custom stamps and labels.  I love the custom stamp idea for the back of invitations, it looks really clear and classy, you know?
Minted is also in discount mode – save 25% off your Save the Dates with the code ENGAGED18. Save the dates for 2018 still? Sounds like my kind of wedding.
And finally, Congratulations to Becky and Kenny – I coordinated their wedding at OUE Skyspace  in Downtown Los Angeles on Saturday.  I don't have any professional pictures, yet, but here is one my assistant Frances took of Becky in her wedding dress, which should be enough "OOOH!" for anyone right now.
What else does your wedding need right now? Let's talk: Complete the form below and I'll get back to you today, or contact me directly at liz@silvercharmevents.com, or call/text me at 323-592-9318
See you at the end of the aisle,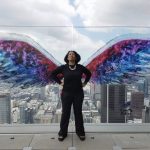 Liz Coopersmith
Ready to get started? Tell me more about you and your wedding.