The Third Rule: Eat Your Dinner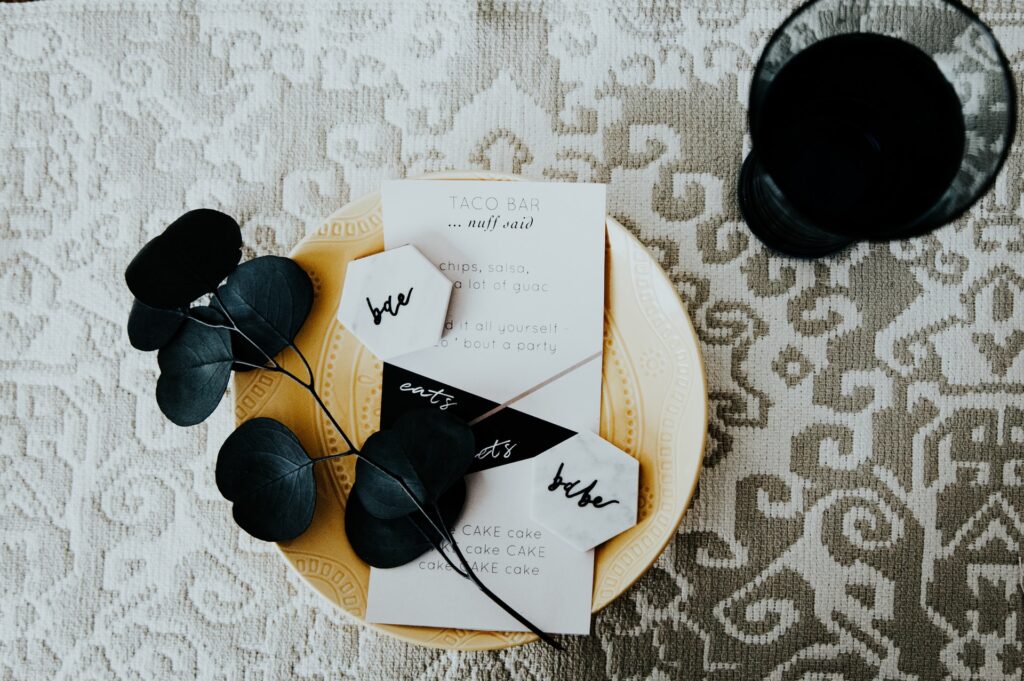 "Pepper-crusted rack of lamb, where did you go??" – Marshall, How I Met Your Mother
I only have three rules for the couples I work with (only three) and other than that, they are rarely going to hear the words "can't" or "must" come out of my mouth. Rule #1 you've heard from me a thousand times – Have the wedding you want. Have the wedding YOU want. Have the wedding you WANT. Please. Would you? Thanks. We'll get to rule #2 in a little while. But Rule #3?
You need to eat your dinner.
So, you've planned this great wedding. You've had your meal tasting, you're really excited about the food you've picked out and paid so much for (per person, even). You may not have eaten for most of the day… too much running around, too nervous, maybe someone handed you a bagel before you put on your dress or your tux. Now it's cocktail time and you are starving. Ravenous, I tell you. But you have to take pictures. You have to take pictures while everyone is enjoying the signature cocktails and mini-donuts that you got just for them. You have to take pictures while they're sucking down the chicken kabobs. And if you're really lucky, you can smell the food from where you're frantically (yet happily) smiling, for the love of God, while you're taking pictures.Yes! Time for the reception. Your grand entrance into your first dance, all you ever dreamed, and then you make your way over to the sweetheart's table, where your dinner is waiting for you, tantalizing and hot. But on the way, Aunt Sookie bride-blocks you for a congratulatory hug. Seeing the opening, your Mom's cousin David drags you over to table 3 for a group picture. Seeing that opening, one of your bridesmaids asks you a question about check-out time at the hotel, and since that's going on, the groomsmen or the groomsmen pull you or your guy over to the bar for the first of many celebratory Jager shots. By the time you get back to your table, your food is either cold or the waiters have quite helpfully – Grrrr – cleared it away. If I've seen it happen once as a wedding guest, I've seen it happen a dozen times.
Seriously? Not on my watch.
Rule #3: You will eat.
I will make sure you get some appetizers before or during picture taking. I will personally guide you to your table (in dark sunglasses and sporting a Secret Service scowl, if necessary) and sit you down. Addendum to Rule #3: Just like when you were a kid, you will not be allowed to get up until you have finished your dinner. Everyone can come to you while you're sitting there, instead (and they will, don't worry). When you're done, then I will let you get up and work the room to everyone's satisfaction.
If you don't have a wedding planner, make Rule#3 yours, anyway. Ask your venue/caterer to have someone bring a plate over to you and yours during the cocktail hour. Ask one of your wedding party or one of your parents to escort you straight to your table (an "official" looking escort always detracts people. Dunno, it works). DO NOT LEAVE THE TABLE UNTIL YOU'VE FINISHED. Then the rest of the night is yours.
Oh, and Rule #2: No paper aisle runners. They're cheap, they're conveniently located at the nearest Target/Michael's/Party store of your choice, and every single one of my brides who had one has tripped on it. No matter how secure it was fixed to the floor, they stumble to the horrified screams of the crowd. BANNED FOR LIFE. I know a local florist that makes great aisle runners and the Original Runner Co. never fails me, and they have regular sales. Go pro, not tissue paper.
How else can I help you create a fantastic wedding day? Complete the form below to schedule a complimentary consultation with me, or go to my services page for more information.
See you at the end of the aisle,
Liz
Ready to get started? Tell me more about you and your wedding.