Wedding Wise Wednesday: The Unknown Unknowns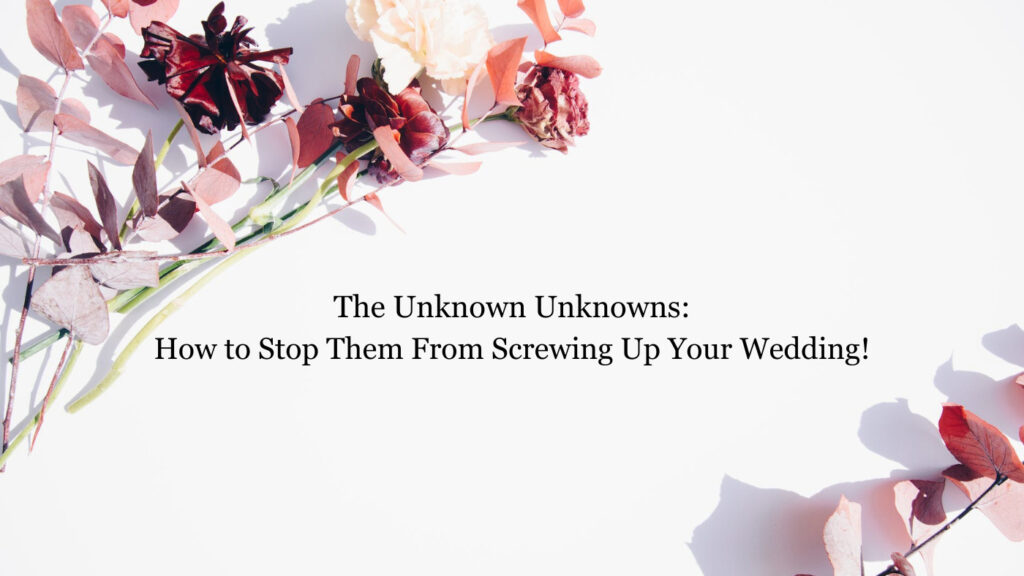 What are the Unknown Unknowns?
The Unknown Unknowns? This is the stuff that you don't know that you don't know, and it can easily bite you in the butt. Those things can include something big like not knowing how long it takes to set up the reception for 150 people or smaller or not realizing the photo booth needs to be near an outlet. Or that the caterer has to cook outside. Or not understanding the impact any of those three things will have on your wedding layout and timeline. In most cases, it's a thing that makes perfect sense but doesn't occur to you. Sometimes, it's something you weren't told, and sometimes it's because this is the first time you've planned a wedding, and how would you know? You're right – You're not supposed to know how to do this. But… you're responsible for all of it, anyway.
Do this "Drill" to beat the unknown unknowns
Honestly, after ohh so many years, I still face the unknown unknowns. I walk into new venues, meet new vendors, and I don't know what the deal is. So, I ask them a set of questions that I ask every vendor, every time. I call it the Drill, and it covers most of the issues that could trip you up. I go into this more in my $10 guide, The Silver Charm Guide to Bare Wedding Venues, and those questions include:
What do you need in terms of time and resources? How much time do they need to set up? To break down? Do they need a table? Do you need to rent or purchase supplies for them? Do they have to set up in a corner that has power? Do they NEED power? Whatever they tell you they need, find a way to get it for them
How many people will be with you? Photographers and Videographers have assistants. So do DJs and Photobooth operators. This is especially relevant if they're working during the reception because the odds are that you'll have to feed them. And for parking, too.
Is there ANYTHING else I need to know? This will bring up any issues they've faced before; anything that's tripped them up with past clients gets missed in their contract. Something as simple as "I need a vegan meal" to "I don't have a mic stand." Always ask this question.
Is there anything you need to know from me? Ask about their unknown unknowns, too.
There are more defenses against the Unknown Unknowns in the Guide (plus a list of what I keep in my wedding emergency kit). Un-vaguing the unknowns helps your vendors help you.
What else do you need for your wedding day? Let's talk: Click here to contact me and schedule a free consultation.
See you at the end of the aisle,
Liz Coopersmith
Ready to get started? Tell me more about you and your wedding.