Wedding Wise Wednesday: A Personal Favor
On Wednesdays, I bring you the best wedding stories, deals and events in Los Angeles and from around the web. And we call it Wedding Wise Wednesday. Welcome!
Cool Wedding Thing of the Week
Parker's Crazy Cookies – I've always said that food makes the best wedding favors. And this is definitely one of the best wedding favors – cookies that look like you! Parker's takes your picture, makes a mold and sends you back cookies. This is fantastic. If you don't think so, you can fight me.
The Deals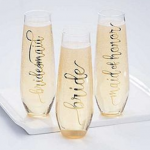 Oriental Trading Company – Free shipping plus $10 off when your order is $75 or more. That should not be a problem.  Use the code CE186029 at checkout.
The Events
Sunday, May 6
11am – 2pm
Bridal Affair Showcase at  The Anaheim Hotel
The Anaheim Hotel
1700 South Harbor Boulevard
Anaheim, California 92802
Check out their renovated space, enjoy cocktails and apps, and meet some of their prepared vendors.
Admission: Free, Please RSVP online.
Monday, May 7
7:00pm-9:00pm
The Big Fake Wedding
The LINE Hotel
3515 Wilshire Boulevard
Los Angeles, California 91601
I love this event. Enjoy a vow-renewal ceremony, dinner and drink, and a dance-party in alternative bridal show atmosphere. It's a busy week, but I'm going to this one. It's always a good time.
Admission: $25
For more listings of wedding and bridal events near you, go to Here Comes The Guide.
What else do you and your wedidng need right now? Complete the form below and I'll get back to you today to schedule a complimentary consultation. You can also email me directly at liz@silvercharmevents.com, or call/text 323-592-9318.
See you at the end of the aisle,
Liz Coopersmith
Ready to get started? Tell me more about you and your wedding.